In-Joy Life has been serving White Rock, South Surrey, Surrey, Delta and Langley regions since 1993 and offering Cold Laser Therapy, Chiropractic, ART, Massage, Orthotics and other Life Enhancing Products.
A Little Bit About Us...
Thank you for finding us on your search for Laser Therapy, Chiropractic and Massage services. If you are new to our website, please feel free to discover and learn more about our services by clicking on the above navigation tabs.
At In-Joy Life Laser Care and Chiropractic we will use a combination of Technology and our seasoned experience (est. 1993) to initially assess your problem, determine if we can help, then develop a strategy that can set you on the road to recovery. We will teach you how to be well and stay well with home exercises, nutritional advice and Strategies for Healthy Living Workshops. We will automatically position ourselves as YOUR Doctor of choice and health advocate and embrace being on YOUR healthcare team to meet YOUR current and long term health goals.
If you are interested in starting your journey towards health and wellness or if these pages can not answer your questions specifically then please call us immediately at   604-535-7373. Or Email us through our Contact Page
Remember It's Your Life... Live it in Health!
---
Cool Learning Tools.
At In-Joy Life we are committed to your health education. We have multiple points of contact on this web page and below to help you understand and improve upon your health and wellness.
Try out our 3D Spine Simulator located below to learn more about how certain spinal regions are relate to various symptoms you may currently have. If want to improve your spine and posture then click on the appropriate app store to to download spinal posture exrecises that only take 3 to 4 minutes a day. And finally, if you want up-to-date health news and offers from In-Joy Life then please click on our Twitter Feed on the Left side of the page to follow us.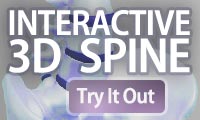 Download Apps For Your Device Bleow
---
Common Origins of Lower Back Pain


---
Common Conditions That Respond Well To Chiropractic & Laser Care
Spinal conditions and injury are usually the result of activity in the home or workplace. Car accidents are also another common cause of underlying spinal conditions. Some of the most common spinal conditions that could be helped by the services offered at In-Joy Life Chiropractic and Laser Care are:
Arthritis

Carpal Tunnel Syndrome

Headache / Migraine

Herniated Disc

Low Back Pain

Muscle Tension / Spasm

Neck Pain

Neuromuscular

Repetitive Stress Injuries

Sciatica

Scoliosis

Thoracic Outlet Syndrome (TOS)

Temporomandibular Joint Dysfunction (TMJ)

Tendonitis

Whiplash
Save
Save